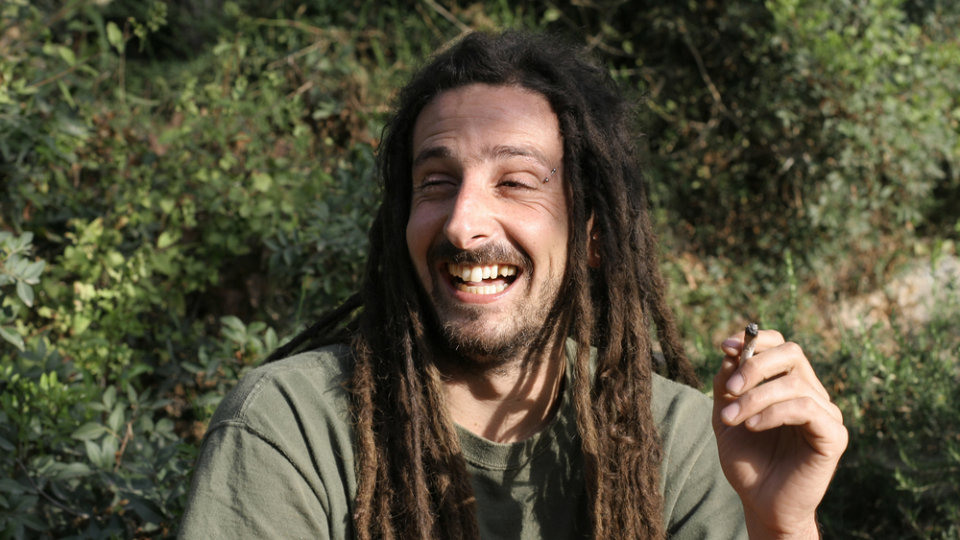 Name:
Blaze Adams
Deed Name:
Pipe Dreams
Apparent Age:
Mid/late 20's
Height:
6'1"
Build:
Gangly
Hair Color:
Dirty. I mean.. brown.
Eye Color:
Probably brown? He squints too much to clearly see.
Breed:
Metis
Tribe:
Bone Gnawer
Camp:
Frankenweiler
Auspice:
Theurge
Rank:
Adren
Pack:
Second Wind
Physical Appearance/Distinguishing Characteristics:
Blaze is a stoner. Like 100%. You think of a stereotype, he pretty much fits it. He has long dreads, a pierced eyebrow, a huge rat-like nose and teeth, and favors a faded green cannabis leaf shirt. He is usually high, and generally squinting and almost-giggling through nearly everything. Still, he commands immediate reverence in matters of sept or spirits. His accent is a bit more SoCal than NorCal, and he stinks to high heaven (pun intended). In crinos, he has no tail.
Obvious Merits/Flaws:
Animal Musk, Spirit Magnet
Common Knowledge:
Arriving a few years ago with Scamp as a cub, Blaze was quick to displace the current Keeper of the Land, who was focusing on having Trent rebuild the dorms more than actually seeing to the spiritual well-being of the caern. He is credited as the brains behind the idea to strengthen the caern, and resides in a den near the caern heart to be closer to the totem. He loves his pack dearly, but also views Scamp as family at a nearly obsessive level. When the previous Rite Master and Gate Keeper left the sept, he stepped in to fill their roles. He recently defended the position of Keeper of the Land and, in so doing, performed the Rite of the Pregnant Mule to officially claim Scamp as his daughter.
Renown:
Wisdom (Calm) - Endured and avoided the frenzy of his previous sept alpha.
Wisdom (Merciful) - Saved a metis cub's life and left his own affairs to see her to her training.
Wisdom (Prudent) - Cleaned out and refurbished the shrines.
Glory (Dependable) - Rose to the task of Rite Master and Gate Keeper when needed.
Wisdom (Thinking Before Acting) - Stopped the pack from following the bait of a threat in town before investigated; found a trap.
Wisdom (Innovative) - Came up with the idea to strengthen the caern.
Honor (Loyal) - Adopted Scamp through the Rite of the Pregnant Mule.
Glory (Generous) - Went out of his way to help Damh find and fix up an old unused Den and get him settled
Wisdom (Innovative) - Set up a spirit bathhouse to enable the cleansing of any arrivals on sept.
Wisdom (Prudent) - Diligent in tracking and providing contributions to Mouse and her newly formed brood on the sept.
Rumors:
Medicates to avoid some painful things he doesn't want to confront.
Somehow actually Scamp's dad from supernatural bullshit.
Was found naked on the Waterfront Walk one morning with no explanation.
Character Theme Song(s):